SipLee Beautiful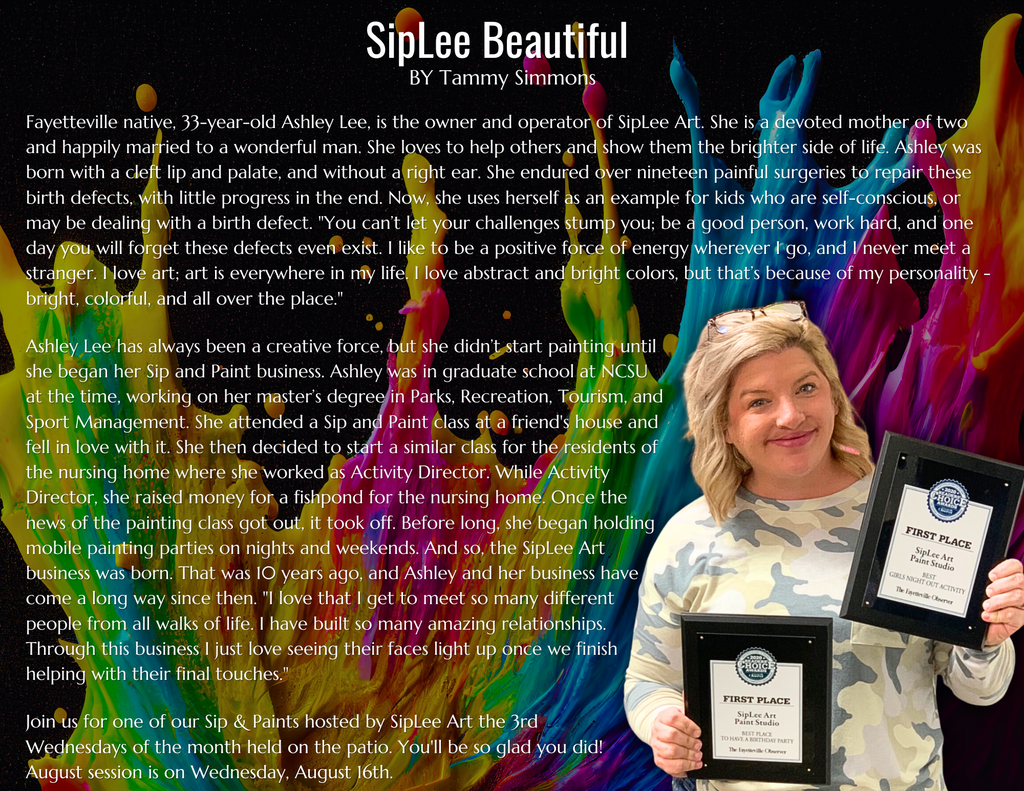 Fayetteville native, 33-year-old Ashley Lee, is the owner and operator of SipLee Art. She is a devoted mother of two and happily married to a wonderful man. She loves to help others and show them the brighter side of life. Ashley was born with a cleft lip and palate, and without a right ear. She endured over nineteen painful surgeries to repair these birth defects, with little progress in the end. Now, she uses herself as an example for kids who are self-conscious, or may be dealing with a birth defect. "You can't let your challenges stump you; be a good person, work hard, and one day you will forget these defects even exist. I like to be a positive force of energy wherever I go, and I never meet a stranger. I love art; art is everywhere in my life. I love abstract and bright colors, but that's because of my personality - bright, colorful, and all over the place."
Ashley Lee has always been a creative force, but she didn't start painting until she began her Sip and Paint business. Ashley was in graduate school at NCSU at the time, working on her master's degree in Parks, Recreation, Tourism, and Sport Management. She attended a Sip and Paint class at a friend's house and fell in love with it. She then decided to start a similar class for the residents of the nursing home where she worked as Activity Director. While Activity Director, she raised money for a fishpond for the nursing home. Once the news of the painting class got out, it took off. Before long, she began holding mobile painting parties on nights and weekends. And so, the SipLee Art business was born. That was 10 years ago, and Ashley and her business have come a long way since then. "I love that I get to meet so many different people from all walks of life. I have built so many amazing relationships. Through this business, I just love seeing their faces light up once we finish helping with their final touches."
Join us for one of our Sip & Paints hosted by SipLee Art on the 3rd Wednesday of the month held on the patio. You'll be so glad you did! August session is on Wednesday, August 16th.